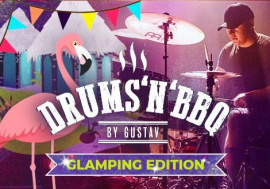 GUSTAV SCHÄFER tickets
DRUMSnBBQ Glamping Edition

Be part of the exclusive DRUMSnBBQ Glamping Edition and spend 3 days with Gustav, the drummer from Tokio Hotel, and his beloved camper. Let him show you drum tricks, study a song and start the evening with a delicious BBQ. Then look forward to great parties right on the water and enjoy 3 nights in a cozy campfire atmosphere.

⁃ Arrive with your camper or tent on Friday and set it up next to Gustavs camper or move into a mobile home right on the waterfront (occupancy up to 4 people) (depending on the ticket category)
⁃ Rehearse a Tokio Hotel song with Gustav during a 1-day workshop (Saturday: 1 group / Sunday: 1 group)
⁃ Enjoy all-inclusive meals from morning to night (also vegetarian/vegan)
⁃ Ask Gustav questions in a Q&A session around the campfire
⁃ Take as many photos as you want
⁃ Become a part of the private DRUMSnBBQ Glamping Edition Instagram group and receive exclusive content in advance
⁃ Use the great leisure activities on the campsite (pedal boats, stand up paddling, beach volleyball, etc.)
⁃ Friday: Welcome Party
⁃ Saturday: Hawaii Party
⁃ Sunday: White Party

*Should it be prohibited to organize the event due to official regulations, it will be postponed to the next possible date. The tickets remain valid. At the event itself, all official hygiene requirements are taken into account. Wearing a mouth and nose protection, disinfection and entry or quarantine restrictions must be observed.

Eventalarm For GUSTAV SCHÄFER